"I don't know about difficult things such as affairs of state." Saigo Takamori  「私は天下の大勢なんどいふやうなむつかしいことは知らない」西郷隆盛
[With the election of one as unworthy as Donald Trump as president, and the state of American politics at an historical low, I felt the need to publish the following about the Japanese hero, general, and statesman Saigo Takamori. (トランプが当選してアメリカの政治がこれほどのひどい状態に落ちた今、西郷隆盛のことを思い出す。)]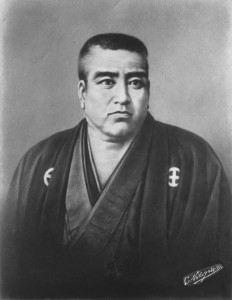 Katsu Kaishu told an anecdote illustrating Saigo's kindness and gentility—and his modesty. It has to do with a man named Hitomi Yasushi, who had been among those in the Bakufu opposing Shogun Tokugawa Yoshinobu's abdication. Hitomi had fought against the Satsuma troops at the outbreak of civil war at Toba-Fushimi in Keio 4/1 (1868), and later against the forces of the Imperial government at Hokodate. Not long after the Meiji Restoration of 1868, Hitomi visited Kaishu at his home. Saying that he wanted to meet Saigo, he asked for a letter of introduction. "But it seemed that he intended to kill Saigo," Kaishu recalled:
"I wrote the letter for Hitomi, but included the following warning: 'This man intends to kill you. But please meet with him anyway.' So Hitomi went down to [Saigo's home in] Satsuma. The first person he met there was Kirino [Toshiaki]. Kirino . . . had a discerning eye. . . . So when he opened and read my letter to Saigo, he understood the situation. Even the fearless Kirino was a little startled—and immediately informed Saigo. But Saigo remained absolutely calm. 'If he's got an introduction from Katsu, I'll meet him,' he said. So on the next day Hitomi visited Saigo's home. 'My name is Hitomi Yasushi,' he announced. 'I've come to talk to you.' Saigo was lying down near the front door. Hearing Hitomi's voice, he calmly got up and said, '…I don't know about difficult things such as affairs of state. Just listen to this. The other day I took a trip. . . . Along the way I got very hungry. So I bought some potatoes and ate them. Certainly you can't expect a guy like me, who can satisfy his hunger [with just potatoes], to know about the state of things in our country.' Then he opened his mouth wide and burst out laughing. The impetuous Hitomi was caught off-guard by the sudden words. Far from killing Saigo, he left without saying so much as 'goodbye.' He was struck with admiration, and when he got back told me, 'Saigo is truly a great man.'"
(「氷川清話」「勝海舟全集」講談社版、56頁)
Hikawa Seika (Kodansha, vol. 21, p. 56)
---
Read more about Katsu Kaishu and Saigo Takamori in Samurai Revolution, the only full-length biography of Kaishu in English.