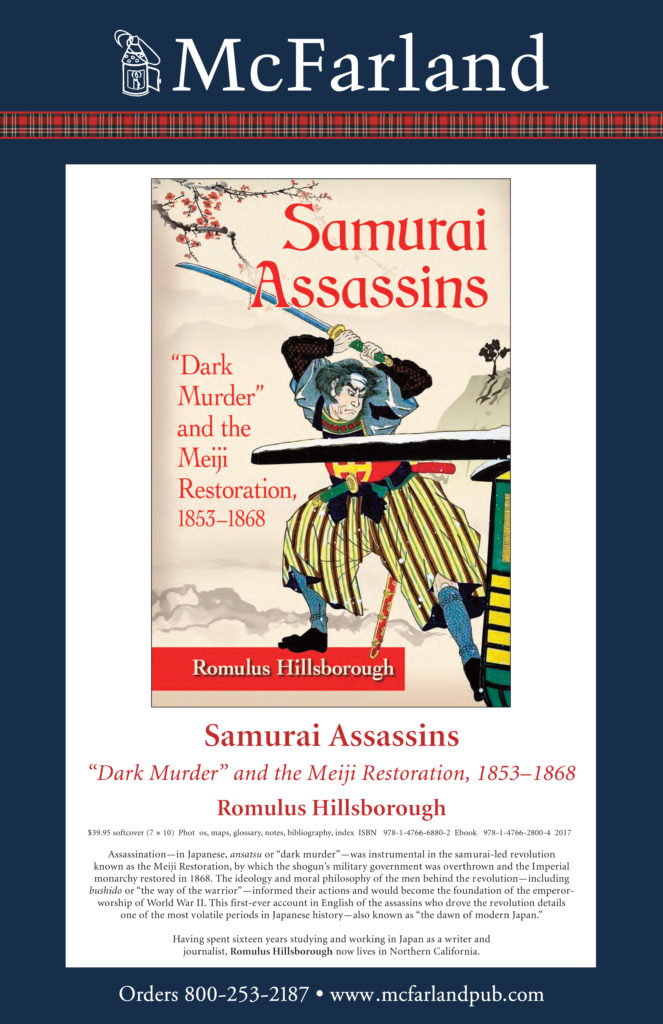 My new book, Samurai Assassins, was published yesterday, March 24, by McFarland as an ebook. The paperback edition should be out before the end of this month. Samurai Assassins, as I have I have described it here, is the only thorough presentation and analysis in English of the most historically significant assassinations of the Meiji Restoration era, "the dawn of modern Japan." On a deeper level, it is a study of the ideology and psychology behind the "samurai revolution" – which is why it so well complements my previous book Samurai Revolution: The Dawn of Modern Japan Seen Through the Eyes of the Shogun's Last Samurai (Tuttle 2014).
I have long been intrigued by the personalities and motives of the assassins in the samurai revolution. I began writing Samurai Assassins soon after completing the manuscript of Samurai Revolution around the end of 2011. In previous books I had written about "dark murder" – a translation of the Japanese term for "assassination" – but in much less detail than in Samurai Assassins. Since "dark murder" had thus far received only cursory, if any, attention by non-Japanese writers, notwithstanding its great impact on the Meiji Restoration, and as a result on Japanese, Asian and even world history, I saw the need to write Samurai Assassins.
I finished writing the book around the end of 2014. I felt confidant that Tuttle, which had published three of my books, would jump at the chance to take this one. So I was surprised, and not a little disappointed, when they refused my proposal. But confident that the book was both original and important – not to mention a "good read" – I contacted several other publishers, and finally settled on an excellent one, McFarland, a self-described "leading independent publisher of academic and nonfiction books." And they have done an excellent job preparing and publishing Samurai Assassins, for which I am most grateful.
---